The Easiest Way to Increase the Value of Your Home? Paint!
Check out these tips to give your home a major boost:
Start with the baseboards: Dust and wash your baseboards before you paint. If your trim already has a coat of paint on it, a separate coat of primer is only needed. If the existing paint is in bad shape, you'll need to scrape away any loose, flaking paint, fill holes with wood filler and sand before priming to ensure a good base surface for your paint to adhere to
Clean lines: If you've painted a room in the past, I'm sure you've had the ceiling line blues. if you can't cut-in your trim & ceiling freehand, you'll need to get painter's tape to keep that seam crisp.
Choose warm neutral colors: Help the Buyer by giving them a blank canvas to envision their own space. Neutral colors like beiges, tans, golds, grays and "greige" – a blend of gray and beige will help do the trick. Avoid white, it's way too stark.
Paint the Ceiling — go ahead & do it: If you want to transform a room, don't overlook the ceiling. The impact of a freshly painted ceiling is priceless. Paint your ceiling a lighter color to make the walls of the room feel higher and your space look larger. Always paint the walls last!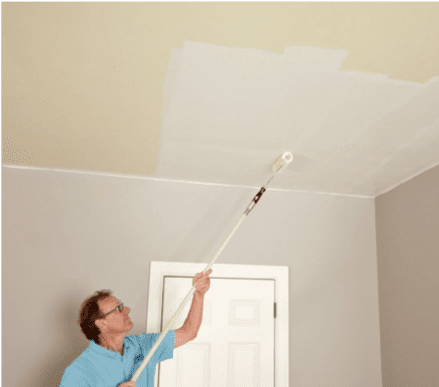 Fill in holes before you paint: Go around with putty & fill then sand the holes, gouges & scratches. If you aren't willing to do it, hire this one out — a pro will get through it in a fraction of the time.
Use appropriate paint: Speak to the pro at the paint shop to figure out the best paint for each space. High traffic areas will do better with a durable paint, while a ceiling should not be painted with a high gloss. Trust the expertise of the pros & choose appropriately.
Don't forget the exterior of your house! Buyers get their first impression of your house as soon as they pull up to the curb.
Paint your front door: Your front door should be welcoming. Choose an attractive color that can have a powerful impact on the Buyer. While neutral colors are still popular for the interior; darker hues of blue and gray or even black seem to have the best impact on the front door.
Contrary to the belief of many sellers, buyers do not want to paint their own colours when they move in. The average Canadian home buyer is looking for a house in move-in condition. They'd like the option of just plunking down their furniture on closing day. Painting has become easier with built-in primers and excellent quality paints at affordable rates. A simple coat of paint will have your potential buyers saying, "Best of all, we wouldn't have to paint!"